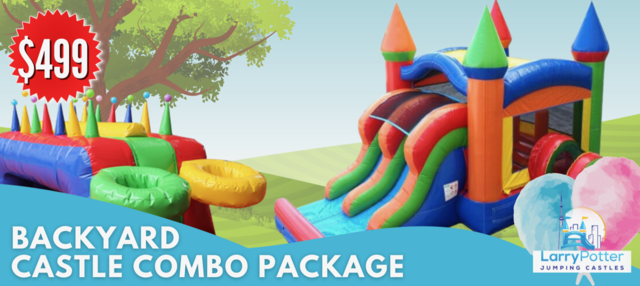 Backyard Bouncy Castle Combo Package
Backyard Bouncy Castle Combo Package
Package Includes:
- Choice of: Bouncy Castle Combo
- Choice of: Single Axe Throw, Hoop Zone, Hot Potato, Fortnite Shooter, Megawire, Operation
- Cotton Candy Machine ( supplies for 25)
Savings of over $75 (Cannot use any Coupon on Package Deal)Tip: Please order package and then contact us for choice of Bouncy Castle and Interactive game.
Looking for the ultimate backyard entertainment for your kids? Look no further than our Backyard Bouncy Castle Combo Package! This package includes a spacious bouncy castle, a slide, a basketball hoop, and a climbing wall, providing hours of fun for kids of all ages. The bouncy castle is made of durable and high-quality materials, ensuring a safe and enjoyable experience for your little ones. The slide provides an exciting way to exit the bouncy castle, while the basketball hoop and climbing wall add even more fun and variety to the playtime. Included is Interactive game and a cotton candy machine with supplies for 25. Perfect for birthday parties, family gatherings, or just a fun day in the sun, our Backyard Bouncy Castle Combo Package will keep your kids entertained and active for hours on end. So why wait? Order now and give your kids the ultimate backyard adventure they deserve!
Only available at Larry Potter Events, Durham's Largest Event Specialist