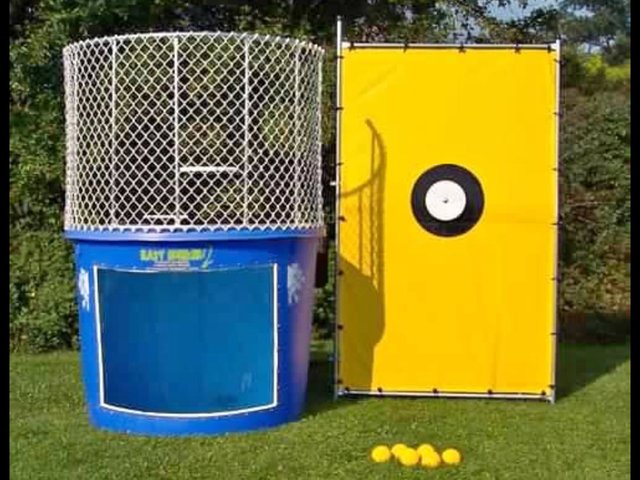 Blue Dunk Tank
Outlets: Have a Hose Ready! close to Dunk Tank. It takes 40 min approx to fill with regular Garden Hose





Regular Price:
Fall Hours due to darker earlier Multi Day: 50% off Extra Day! (Weekdays or Weekends)




$349.00

Winter Hours for rentals after 5pm please call our office



Dunk Tank Rental
Get Ready for Some Fun!
Dunk Your Favorite...
Our Dunk Tank is sure to make a splash at your event! This 500 gallon dunk tank with a see thru window is great for fundraising, corporate picnics, school carvinals, backyard parties, festivals, virtually any type of celebration! Dunk your boss, teacher, principal, best friend, or your favorite coworker. You can dunk anyone for fun or you can dunk them to benefit a good cause. It's all in fun! Comes with 3 softballs for Dunking. Maximum capacity on dunk tank is one person weighing no more than 250 pounds. Must be at least 18 years old to be dunked. Easy setup options. This trailer mount tank easily fits in most locations. For fenced area setups, the Dunk Tank requires at least a 6ft wide gate opening.
ATT: Need 6' Gate to enter backyard
Dunk tank is over 1000lbs and cannot be lifted at any time.
Dunk Tank takes roughly 40 minutes to fill up.
Dunk tanks are subject to a $75 set up fee/delivery if out of our area is extra.