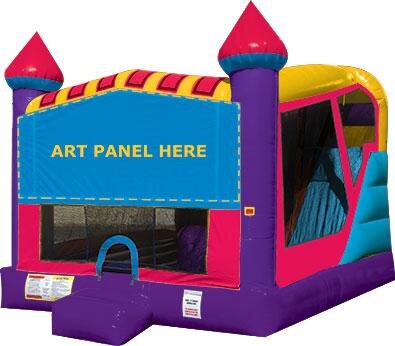 C5 Dream Combo




Regular Price:
Fall Hours due to darker earlier Multi Day: 50% off Extra Day! (Weekdays or Weekends)




$289.00

Fall Hours for rentals after 6pm please call our office



The C5 Dream Bouncy Combo is the ultimate inflatable play structure for Girls of all ages.
Choose a banner to fit on the front of the Castle. We have over 50 themes to choose from.
This combo unit features a spacious bouncing area, a climbing wall, and a thrilling slide that will keep kids entertained for hours on end. Made with high-quality materials and sturdy construction, the C5 Dream Bouncy Combo is built to withstand the rigors of constant use and provide a safe and enjoyable play experience for your little ones.The bouncing area is surrounded by mesh walls, providing excellent ventilation and visibility while keeping kids safely contained. The climbing wall features easy-to-grip handholds and footholds, allowing kids to ascend to the top with confidence. And the slide is tall and steep, providing an exhilarating ride down to the bottom.Whether you're hosting a backyard birthday party or a community event, the C5 Dream Bouncy Combo is sure to be a hit with kids and parents alike. So why wait? Order yours today and give your kids the gift of endless fun and adventure!