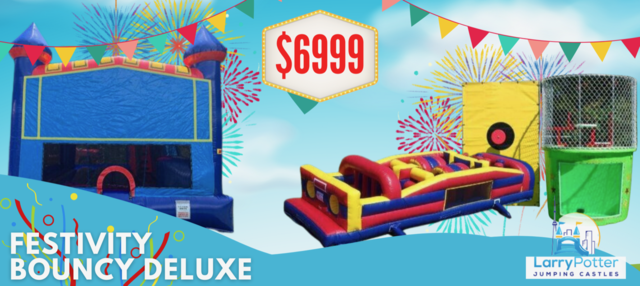 Festival Deluxe Bounce Package
Festival Deluxe Bounce Package (Over $800 in Savings)
Package is TSSA approved for all Public Events in Ontario
$5 million Liability/ Fully insured
(Based on 4/ hr Event)
Package Includes:
- 90' Obstacle (TSSA)
- Combo Bounce House (TSSA)
- 15' Mod (TSSA)
- Extreme Wipeout
- Extreme 18' Dual Slide
- Dunk Tank
- Choice of: any 4 Interactive games
- Choice of: any 3 Carnival games
- Choice of: 2 Food Machines with supplies for 150
- 3 Generators
- 4 trained Staff members to assist with event
Festival Deluxe Package (Starting @ $6999.00 + tax), we can always add or subract items to fit budget. Will travel anywhere in Ontario for Large Events
We will travel anywhere in Ontario, minimum order $3000.
Additional travel fee will be applied if outside our delivery area
The Festival Deluxe Bounce House Package is the ultimate inflatable party rental for any large event. This package includes two extreme inflatables, 90' obstacle, bounce house combo that can accommodate up to 8 children at a time, making it perfect for event any large or community events. It features vibrant colors and fun designs that will capture the attention of kids and adults alike. The bounce house also includes a safety netting enclosure to prevent children from falling out of the inflatable structure. In addition to the bounce house, the Platinum Package includes a variety of exciting features to enhance your party experience. This package comes with a large dual slide that will provide hours of entertainment for children and help control crowd.Interactive games and carnival games to challenge crowd to practice their shooting skills and a climbing wall for them to test their strength and agility. To ensure that your party is a success, the Festival Deluxe Bounce House Package also includes delivery, setup, and takedown services. Our team of professionals will handle all of the logistics, so you can sit back and enjoy your event. Overall, the Festival Deluxe Bounce House Package is an exceptional choice for anyone looking to add some excitement and fun to their party. With its high-quality construction, exciting features, and convenient services, this package is sure to be a hit with children and adults alike.