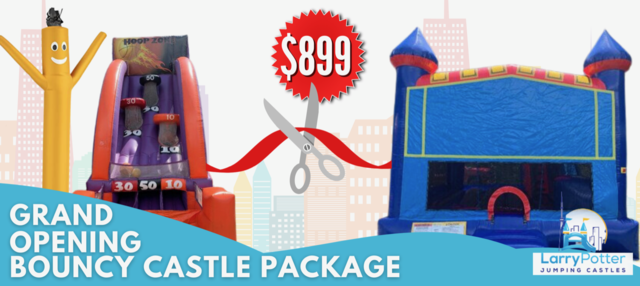 Grand Opening Bouncy Castle Package
Grand Opening Bouncy Castle Package (Over $150 in Savings)
Package is TSSA approved all Public Events in Ontario
(Based on 4/ hr Event)
Package Includes:
- Blue Jay Combo (TSSA)
- Choice of: Hoop Zone, Single Axe Throw, Fortnite Shooter
- 20' Sky Dancer
- Generator
- Grand Opening Bouncy Package (Starting @ $899.00 + tax), we can always add or subract items to fit budget. Need staff to help monitor please contact us!
Looking for the perfect way to make your grand opening event unforgettable? Look no further than our Grand Opening Bouncy Castle Package! This package includes a colorful and exciting bouncy castle that will be sure to delight kids and adults alike. With its vibrant colors and fun design, this bouncy castle is the perfect addition to any grand opening celebration. Our Grand Opening Bounce House Package also includes Sky Dancer to attract crowd, setup, and takedown services, so you can focus on enjoying your event without any hassle. Our team of professionals will ensure that the moonwalk is set up safely and securely, so you can relax and enjoy the festivities. Don't miss out on the opportunity to make your grand opening event one to remember. Book our Grand Opening Bouncy Castle Package today and let the fun begin!

Only available at Larry Potter Events, Durham's Largest Event Specialist